Local Artist Getting International Air-Time
By Mary Ann O'Toole Holley
Mid Rivers Newsmagazine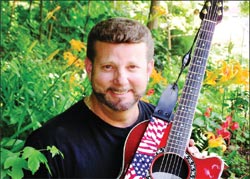 Thom Meinert may be a hometown boy, but when it comes to his music, he is as country as sawmill gravy and moonshine pie - all the way down to his Johnny Cash-style baritone voice and a musical endorsement by Country Western crooner Crystal Gayle.
His biggest moments on a stage just might have been when he opened for Lou Rawls at a three-night gig at the Cervantes Convention Center years ago, or when he won a local talent show playing "A Taste of Honey" with the Johnny Polzin Orchestra on the old SS Admiral.
But now, he finds himself on the international airplay circuit mingling his musical byline with the likes of Tim McGraw, Willie Nelson and Kenny Rogers. That posture came from a cushy chair at his home computer by the gusto of a man who knows the art of self promotion.
"When you're running with headliners, it's only a matter of time," said Meinert of St. Charles, who recently released two heartfelt country tunes, "Darling'" and "Peaceful Someday"- tunes produced under his own label that have now found themselves streaming on radio waves as far as Denmark, the United Kingdom, Australia and more.
"How does a recording artist from St. Charles County get his music heard around the world?" Meinert rhetorically asks. "Good feedback motivates you and keeps you moving forward."
"Darling," his first song, released in 2005, is written for the everyday person who doesn't know how to tell their significant other how much they love them, Meinert said. "Peaceful Someday," his second song, released just a few months ago, was inspired by what Meinert sees on the news every day.
"It wasn't written just for American troops, but for all the troops," Meinert said. "It was written for the worldwide events I see, the scariness of not knowing where we are going."
Meinert says "Peaceful Someday" has three or four different messages. Though he wrote it with the troops in mind, it holds a message that the "peaceful someday" so many of us are seeking in the world these days will somehow come, he said.
"It's about a soldier reflecting back, saying and praying - that only the Lord knows. It gives tribute to the Lord. When the chips are down, before it's all said and done, we ask the Lord for a peaceful someday."
A reviewer for Indie-Music.com called "Peaceful Someday" a song that relates to the fabric of our time. "The musical arrangement is stellar, but it is truly the vocal sound that makes the track shine. Few men can hit those low notes in a way that sounds full and strong, but Meinert's voice was made for that range - all cowboy," reviewer Catherine Tully said.
Meinert laughs at the term "all cowboy," but appreciates the praise nonetheless. What's more important to him is the notice he has received from folks he never dreamed heard of him.
Meinert regularly receives reports from ASCAP (the American Society of Composers, Authors and Publishers), a watchdog for the music industry that tracks royalties. Reports show him in the same lineup as Keith Urban and other noted musicians, and he gets royalties for airplay. But what makes him the happiest is just that his music is out there and people are noticing him.
One day he went out to the mailbox and there was a letter marked "Airmail" from No. 10 Downing Street - a letter from British Prime Minister Tony Blair complimenting him on his song.
Another day there was a letter with a return address marked "51 Music Square, Nashville." Inside was a note card simply engraved, "Crystal." It was a handwritten note from Crystal Gayle saying she liked his first CD, "Darling."
Later, another card arrived from the Catholic Archdiocese of St. Louis' Most Reverend Raymond Leo Burke, Archbishop of St. Louis, praising his "Peaceful Someday" tune.
"It's really exciting every day to see where my music ends up," Meinert said. "But whether it's being listened to by families of men in the troops, families who lost a man in the troops - whatever. As long as the song brings some good feeling to their hearts, and it's a matter that they find feelings in my music and my words. I'm looking past politicians at the soldier over there standing in the streets. That's why I felt so good hearing from Tony Blair - that he liked the song. I'm not a politician, but I can express my feelings in my music."
A professional musician and entertainer with two hot tunes under his belt, Meinert says he began his road to international airtime at age 5, chipping pieces of marble off his parents' coffee table, keeping time with Herb Alpert.
Now, in addition to selling and sampling his music on his Internet site, www.thommeinert.com, he works with a company that distributes press releases of his work to 100,000 people worldwide.
"Usually a radio station will email and request a copy for review," Meinert said. "But if this was the 70s, without the Internet, how would I have gotten my music overseas. The Internet is a tool. I'm amazed all the time where my music is being played. What's neat is that it continues to grow."
Meinert played drums all of his life. As a teenager, he played weddings and corporate events, and later went on to learn the acoustic guitar and harmonica. He studied all facets of drumming for 19 years and performed at drum clinics throughout St. Louis, teaching drums to children and adults.
Overall, music has always been his day job, he said.
"Everybody has their own signature song," Meinert said. "But I am absolutely not inspired by anyone. There is no one I emulate or simulate. You think of life in general, you work out the chord, the arrangements and go into the studio. I was called from a label in Nashville, but sometimes, labels aren't the way to go. I've been in this business long enough and know I don't want anyone telling me where, when and how to sing."