FOR IMMEDIATE RELEASE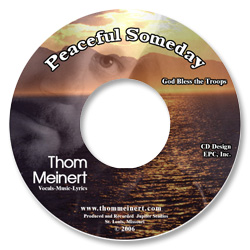 "PEACEFUL SOMEDAY" a Tribute to Our Troops, has Drawn Worldwide Attention
St. Louis, MO - May 20, 2006 - - Thom Meinert, recording artist and singer-songwriter from the USA, is getting worldwide attention from his new single "Peaceful Someday". The single is currently receiving airplay in many countries, with an expanding fan base, and charting on radio playlist worldwide.
Thom has received touching letters and emails from around the world including a prime minister, troop members, troop support groups, and religious leaders in response to his message of peace. "Peaceful Someday" is being sent successfully to many levels of government around the world, including The White House, United Nations, religious organizations, troop support groups, TV/Radio/Cable Media in assistance of providing "Peaceful Someday" to people worldwide.
"Peaceful Someday" was written to encompass the soldier, reflecting back to a peaceful time, and provide morale and support for peaceful times to come. This song tribute goes out to all the men and women fighting for peace worldwide and their families.
Contact:
Thom Meinert
www.thommeinert.com
thom@thommeinert.com

DEMO COPIES & INTERVIEWS AVAILABLE

Press release distributed by : MMDNewswire.com